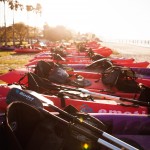 Launch our kayak rental fleet at your next event!
"You must live in the present, launch yourself on every wave, find your element in each moment."
– Henry David Thoreau
PaddleLink is the effort of supporters of the adventure race community in an effort to make the sport more accessible to both participants and kayaks more available to race directors. In addition, our boats are available for rental to other organizations such as churches, Boy Scout Troops, and other events.  We do not provide guides, only the boats.
Kayaks for Rent!
We offer a fleet of 40 tandem ocean E-Motion kayaks, along with EMotion paddles, seats, and MTI personal flotation devices (PFDs). We are available to trailer them to any location and can rent only some kayaks or the whole fleet.
Rates
– $45/day per kayak, includes paddles and PFDs
– $1.50/mile trailering fee for delivery and return
– $400/kayak rental day for two attendants to deliver, unload, and load kayaks.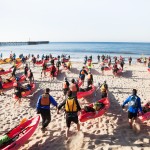 Request a Quote
We are available to tailor our quotes to your needs. Our goal is to get people in boats on bodies of water for an affordable rate and help you meet you event and party needs.
Contact Us!
Call Kristin at 805 748 1478 or write to kristin@all-outevents.com
A video of our kayaks in action at the 2013 Gold Race Motherlode expedition race: