All Out Events is a team of friends and professionals working together to build a company we believe in and produce adventure events we are proud of.

Why All Out Events?
Our Mission: All Out Events' productions are the product of professionals working with the community to produce extraordinary, exciting, and motivating outdoor-focused events for participants of all abilities.
Our objectives:
Motivate people to better themselves by providing life-changing memories and experiences.
Run events in a sustainable, "green," and respectful manner.
Set the bar for professionalism within the outdoor event market.
Maintain a catalog of diverse and original events, attracting a similar, but ever-widening audience of attendees and industry professionals.
Working to grow the sport community for the event types we host.
Highlight the communities in which events are held, promoting them as the outdoor recreation destinations they are.
Support community-based philanthropy whenever possible.
Provide a professional subsistence for the business' management.
We've been producing events for a decade. Race director Yishai Horowitz got his start working with ESPN Radio and Big Blue Adventure producing adventure races. He then partnered to form a company that produced the beloved Downtown Criterium Classic in San Luis Obispo, but the company dissolved. In 2009, Kristin Tara Horowitz joined the team, and All Out Events was born. Kristin has been by Yishai's side since the beginning – helping him out as a ropes supervisor and volunteer manager, but she has most recently taken over the business operations and marketing. This leaves Yishai to do what he does best: produce wonderful and epic race courses.
---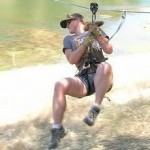 Kristin Tara Horowitz – Event Producer and Event Fixer
A multisport athlete, Kristin got into the outdoor industry in 2000 as a climber. She quickly gathered a following for her adventure writing until she was injured. With a strong small business and writing background, she is the administrator of All Out Events, overseeing the business end of the organization from marketing to finance. She is also an accomplished race producer and director in her own right and serves as the "second" and manager/trainer for the staff. She holds an undergraduate and masters degree in English from Cal Poly, SLO.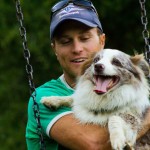 Yishai Horowitz – Race Director and obstacle designer
Yishai has been involved in the outdoor sports industry both personally and professionally since 1996.  An avid climber, mountain biker, runner and adventurer, Yishai has competed in numerous events, including triathlons, mountain bike races, adventure races and climbing competitions. Yishai started his event production with the inception of SLO-Op Climbing competitions and the founding of the Central Coast Adventure Challenge (Dawn to Dusk race) that has grown from a college internship to California's highest attended adventure race. He is a graduate of the Cal Poly SLO Recreation Administration program, in addition to ten years' experience working with children at an outdoor summer camp in the Sierra.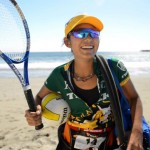 Kaori Funahashi – Race Director/Outreach
Kaori tore up the collegiate tri scene while going to Cal Poly for Art and Design, and now that she's graduated, she's making a name for herself as professional triathlete and photographer. She'd been our official event photographer for a few years and she's shown us her commitment, skill, and innovative attitude – exactly what it takes to produce top caliber events.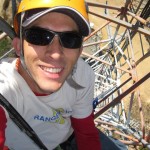 Marcel Stieber – Communications Director
Marcel is a hobbyist communications nerd when he's not working on building Amazon Kindles. He's our go-to man locally and internationally when it comes to all our radio needs. Whether its communications monitoring or programming and installation of radio channels and towers, Marcel's our guy.
And we love our build out and professional staff, too!: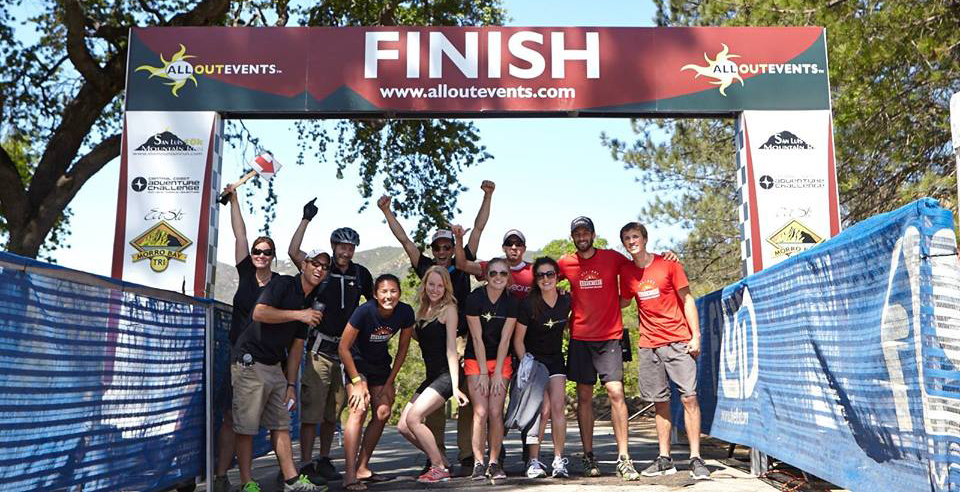 All Out Events Staff for the 2014 Checkpoint Challenge
---
We pride ourselves on having built our company around promoting eco-friendly and sustainable events, and we do everything we can to ensure that each event will continue to be some of the most environmentally responsible human powered competitions in the West. Our track record includes years of outdoor event promotion, and in all cases we left absolutely nothing behind but good memories.
To sum up our environmental plans:
We only hold events in areas deemed suitable by the land mangers whether it be US Forest Service, County Parks, City Parks, or Private Land
We coordinate area clean ups with local and national environmental advocacy groups such as Central Coast Concerned Mountain Bikers, The Access Fund, Allied Climbers Of San Diego and Friends of Joshua Tree to ensure our venues are cleaner when we leave then when we arrived
We have a volunteer sign-up link for each event on our website and will be encouraging people throughout the event to stay behind and participate in it
We clearly mark established trails to prevent erosion and flag off limit areas
We are doing everything we can to remind people to be extra mindful of leaving trash — There will also be trash and recycling containers throughout the venue
There will be bathrooms and/or porta-potties on site for all the participants
Our events are powered by the sun and biodiesel
When possible we instate a no disposable cup policy encouraging participants to use our souvenir pint glasses or reusable water bottles.
We encourage carpooling
---
Testimonials:
Land Managers
I found All Out Events to be highly communicative, creative and enthusiastic. The success of their events has come from the attention to detail in the palnning. Use of public property can be challenging and each condition given to All Out Events was met and the facilities returned to their original state. Event operations plans were always submitted in a timely manner with the appropriate liability certificates. The thoroughness of All Out Events has not gone unnoticed and a solid working relationship has been maintained between the City and production staff.   — Christine Wallace, former Recreation Supervisor for San Luis Obispo Parks and Recreation
Yishai and Kristin are a joy to work with and they take great pride in what they do. They are very professional and easy to work with and they thoroughly understand the importance of good communication, preparation, emergency response and participant safety. They have an outstanding safety record with San Luis Obispo County Parks and have demonstrated time and time again that they take participant safety very seriously. Events are always well staffed and race courses and participants are well monitored. Yishai and Kristin go to great lengths to make sure all bases are covered and that any emergency will be dealt with quickly and appropriately.
Hosting events by All Out Events has benefited our parks in many ways. We have benefited financial and the marketing has been fantastic for us. We often get new visitors who are training for an upcoming event and we routinely get participants coming back to the park because they had such a positive experience during their event.
It's worth mentioning that I have personally competed in many adventure races and mud runs by various organizers over the years, including All out Event's, and I can personally say Yishai and Kristin put on the best, period. The courses are always creative, exciting and fun as well as challenging and safe. They do a fantastic job in providing an amazing experience for all.
I have no hesitation in recommending All Out Events to those who are looking to host an event or looking to participate in one. – Chuck Woodard, Park Ranger III, County Of San Luis Obispo
Adventure Racing
I am extremely impressed with the organization, professionalism, and preparedness of ALL OUT and everyone involved. I was very obvious that a lot of time and thought had been put into all aspects of the race. I have, and will continue to recommend Yishai's events for experienced and novice athletes. AWESOME EVENT!!
My buddy Steve and I just finished our first adventure sprint!! We're both totally hooked on the sport now. Thanks for putting on such a great and well run event. Though I was cursing you a few times while climbing yet another hill, you put on a first class event and we had a blast.
I have done 60+ adventure races over the past decade, everything from sprints to expedition length. However this was my first experience with All Out Events and you did an outstanding job! The race course was well designed and thought out. All the CPs (we hit) were in the correct location. Your volunteers were spot on their individual responsibilities. They were well informed, very courteous and took good care of the racers. Of course it was hot, miserable and took an all out effort just to finish – isn't that what every good adventure racer wants? For 12 hours on Saturday, our team suffered with everyone else and we had so much fun doing it! Thanks for keeping the sport alive!
You have the best AR's. I've done other companies, but they take a backseat to Allout Events.
Triathlon
I was pleased with my interaction with the race staff. Everyone was super helpful to a newbie like me. I appreciated the "high five" attitude and cheering for everyone.Keep the stoke going!
You guys are always very well organized and that is MUCH appreciated. We don't have to worry about talking to four different people and getting four different answers. It's always easy to show up and be ready to race and know you guys are ready for us. THANK YOU!!
Mountain Bike
I think the first year this was put on was my best experience racing. Everything went smoothly and the organizers knew what they were doing.
The event staff are awesome. They make you feel great about being there and are super motivating.
10k Mountain Run
Fun event. Well organized and super positive experience. Not intimidating for casual runners – very inclusive. Can't wait for next year. Will recruit friends and spouse.
Great job! I love the environmental stewardship!
I came all the way from Chicago and have run many races in the Midwest. The SloMountainRun is by far the most beautiful. It was my first trail run!! I Loved It!!!
Mud Runs
Awesome job with the event…. great obstacles and course and energy from everyone… and beautiful place to race!
i participated in the warrior dash last year in southern california and the mud mash was WAY more challenging and A LOT muddier which was great! the included bbq was delicious and the volunteers and photographers were really willing to cheer us on and take extra photos when we asked
I did the Camp Pendelton Mud Run last year and the Mud Mash X was 100 times better. 
Better course. Fewer people (which meant more open area to run at your own pace). More support crew. Way better obstacles. More obstacles. Better after party.
I felt so great!!! It was such a well done race. The obstacles were awesome, the scenery was beautiful, and I was ready to market the race so that there would be one next year for me to do!! I've already told a bunch of friends.
I was exhausted!!! But I felt this sense of accomplishment knowing that I pushed some of my edges and stepped out of my comfort zone completing some of the obstacles. After I crossed the finish line I was so excited and happy that I had the opportunity to run and complete the race.
---
Contact us!
1241 Johnson Ave #128
San Luis Obispo, CA 93401
events@all-outevents.com
844 7 ALL OUT (844 725 5688)