Land Managers
I found All Out Events to be highly communicative, creative and enthusiastic. The success of their events has come from the attention to detail in the palnning. Use of public property can be challenging and each condition given to All Out Events was met and the facilities returned to their original state. Event operations plans were always submitted in a timely manner with the appropriate liability certificates. The thoroughness of All Out Events has not gone unnoticed and a solid working relationship has been maintained between the City and production staff.   — Christine Wallace, former Recreation Supervisor for San Luis Obispo Parks and Recreation
Yishai and Kristin are a joy to work with and they take great pride in what they do. They are very professional and easy to work with and they thoroughly understand the importance of good communication, preparation, emergency response and participant safety. They have an outstanding safety record with San Luis Obispo County Parks and have demonstrated time and time again that they take participant safety very seriously. Events are always well staffed and race courses and participants are well monitored. Yishai and Kristin go to great lengths to make sure all bases are covered and that any emergency will be dealt with quickly and appropriately.
Hosting events by All Out Events has benefited our parks in many ways. We have benefited financial and the marketing has been fantastic for us. We often get new visitors who are training for an upcoming event and we routinely get participants coming back to the park because they had such a positive experience during their event.
It's worth mentioning that I have personally competed in many adventure races and mud runs by various organizers over the years, including All out Event's, and I can personally say Yishai and Kristin put on the best, period. The courses are always creative, exciting and fun as well as challenging and safe. They do a fantastic job in providing an amazing experience for all.
I have no hesitation in recommending All Out Events to those who are looking to host an event or looking to participate in one. – Chuck Woodard, Park Ranger III, County Of San Luis Obispo
Adventure Racing
You and your crew put on phenomenal races! Well organized and thought out. . . . Anyway, thanks for being open and listening!! Being a race director is not an easy job and we do appreciate all the work that you put into this. We were amazed with all of the effort, transport of gear and shuttling that went on. Nice job!! We look forward to your races and hope to see you again!"
I am extremely impressed with the organization, professionalism, and preparedness of ALL OUT and everyone involved. I was very obvious that a lot of time and thought had been put into all aspects of the race. I have, and will continue to recommend Yishai's events for experienced and novice athletes. AWESOME EVENT!!
My buddy Steve and I just finished our first adventure sprint!! We're both totally hooked on the sport now. Thanks for putting on such a great and well run event. Though I was cursing you a few times while climbing yet another hill, you put on a first class event and we had a blast.
I have done 60+ adventure races over the past decade, everything from sprints to expedition length. However this was my first experience with All Out Events and you did an outstanding job! The race course was well designed and thought out. All the CPs (we hit) were in the correct location. Your volunteers were spot on their individual responsibilities. They were well informed, very courteous and took good care of the racers. Of course it was hot, miserable and took an all out effort just to finish – isn't that what every good adventure racer wants? For 12 hours on Saturday, our team suffered with everyone else and we had so much fun doing it! Thanks for keeping the sport alive!
You have the best AR's. I've done other companies, but they take a backseat to Allout Events.
Triathlon
I was pleased with my interaction with the race staff. Everyone was super helpful to a newbie like me. I appreciated the "high five" attitude and cheering for everyone.Keep the stoke going!
You guys are always very well organized and that is MUCH appreciated. We don't have to worry about talking to four different people and getting four different answers. It's always easy to show up and be ready to race and know you guys are ready for us. THANK YOU!!
Mountain Bike
I think the first year this was put on was my best experience racing. Everything went smoothly and the organizers knew what they were doing.
The event staff are awesome. They make you feel great about being there and are super motivating.
 Mountain Run
Great run, love the enthusiasm and energy of those in charge… Chris S. was awesome, made it really fun to stick around and wait for awards–he was into it!! Everything was excellent… THANKS A TON, IT WAS A FANTASTIC MORNING–AND THE PRIZES WERE AMAZING (yea thongs!)
Fun event. Well organized and super positive experience. Not intimidating for casual runners – very inclusive. Can't wait for next year. Will recruit friends and spouse.
Great job! I love the environmental stewardship!
I came all the way from Chicago and have run many races in the Midwest. The SloMountainRun is by far the most beautiful. It was my first trail run!! I Loved It!!!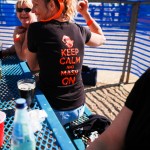 Mud Runs
Awesome job with the event…. great obstacles and course and energy from everyone… and beautiful place to race!
i participated in the warrior dash last year in southern california and the mud mash was WAY more challenging and A LOT muddier which was great! the included bbq was delicious and the volunteers and photographers were really willing to cheer us on and take extra photos when we asked
I did the Camp Pendelton Mud Run last year and the Mud Mash X was 100 times better. 
Better course. Fewer people (which meant more open area to run at your own pace). More support crew. Way better obstacles. More obstacles. Better after party.
I felt so great!!! It was such a well done race. The obstacles were awesome, the scenery was beautiful, and I was ready to market the race so that there would be one next year for me to do!! I've already told a bunch of friends.
I was exhausted!!! But I felt this sense of accomplishment knowing that I pushed some of my edges and stepped out of my comfort zone completing some of the obstacles. After I crossed the finish line I was so excited and happy that I had the opportunity to run and complete the race.