All Out Events is a team of friends and professionals working together to build a company we believe in and produce adventure events we are proud of.

Why All Out Events?
Our Mission: All Out Events' productions are the product of professionals working with the community to produce extraordinary, exciting, and motivating outdoor-focused events for participants of all abilities.
Our objectives:
Motivate people to better themselves by providing life-changing memories and experiences.
Run events in a sustainable, "green," and respectful manner.
Set the bar for professionalism within the outdoor event market.
Maintain a catalog of diverse and original events, attracting a similar, but ever-widening audience of attendees and industry professionals.
Working to grow the sport community for the event types we host.
Highlight the communities in which events are held, promoting them as the outdoor recreation destinations they are.
Support community-based philanthropy whenever possible.
Provide a professional subsistence for the business' management.
We've been producing events for a decade. Race director Yishai Horowitz got his start working with ESPN Radio and Big Blue Adventure producing adventure races. He then partnered to form a company that produced the beloved Downtown Criterium Classic in San Luis Obispo, but the company dissolved. In 2009, Kristin Tara Horowitz joined the team, and All Out Events was born. Kristin has been by Yishai's side since the beginning – helping him out as a ropes supervisor and volunteer manager, but she has most recently taken over the business operations and marketing. This leaves Yishai to do what he does best: produce wonderful and epic race courses.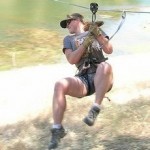 Kristin Tara Horowitz – Event Producer and Event Fixer
A multisport athlete, Kristin got into the outdoor industry in 2000 as a climber. She quickly gathered a following for her adventure writing until she was injured. With a strong small business and writing background, she is the administrator of All Out Events, overseeing the business end of the organization from marketing to finance. She is also an accomplished race producer and director in her own right and serves as the "second" and manager/trainer for the staff. She holds an undergraduate and masters degree in English from Cal Poly, SLO.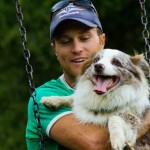 Yishai Horowitz – Race Director
Yishai has been involved in the outdoor sports industry both personally and professionally since 1996.  An avid climber, mountain biker, runner and adventurer, Yishai has competed in numerous events, including triathlons, mountain bike races, adventure races and climbing competitions. Yishai started his event production with the inception of SLO-Op Climbing competitions and the founding of the Central Coast Adventure Challenge (Dawn to Dusk race) that has grown from a college internship to California's highest attended adventure race. He is a graduate of the Cal Poly SLO Recreation Administration program, in addition to ten years' experience working with children at an outdoor summer camp in the Sierra.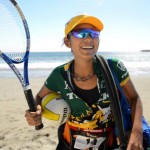 Kaori Funahashi – Race Director/Outreach
Kaori tore up the collegiate tri scene while going to Cal Poly for Art and Design, and now that she's graduated, she's making a name for herself as professional triathlete and photographer. She'd been our official event photographer for a few years and she's shown us her commitment, skill, and innovative attitude – exactly what it takes to produce top caliber events.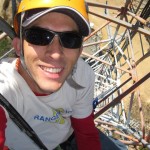 Marcel Stieber – Communications Director
Marcel is a hobbyist communications nerd when he's not working on building Amazon Kindles. He's our go-to man locally and internationally when it comes to all our radio needs. Whether its communications monitoring or programming and installation of radio channels and towers, Marcel's our guy.
And we love our build out and professional staff, too!: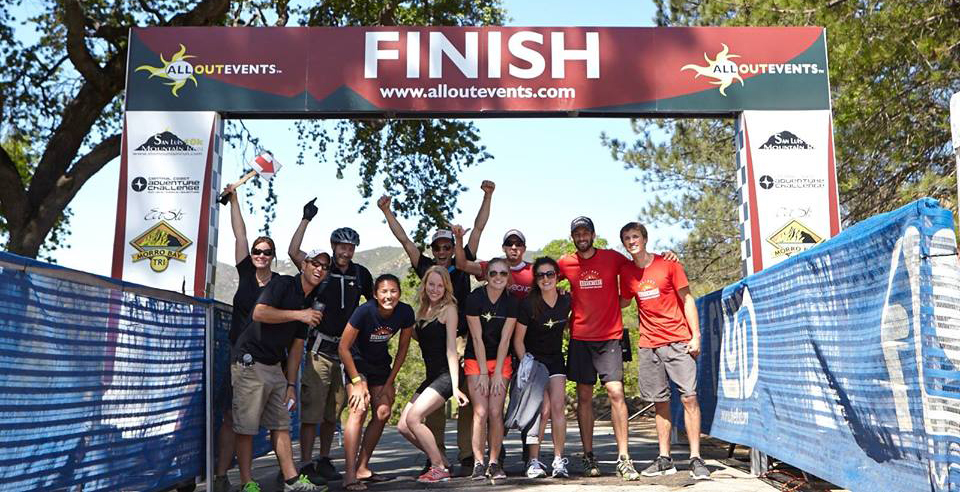 All Out Events Staff for the 2014 Checkpoint Challenge
Contact us!
1241 Johnson Ave #128
San Luis Obispo, CA 93401
events@all-outevents.com
844 7 ALL OUT (844 725 5688)